What happens if I don't take the second part of the abortion pill?
I took the first abortion pill, but now have changed my mind
Can you change your mind after taking the first abortion pill?
Will there be damage to the baby if took abortion pill then changed my mind?
Does the abortion pill affect future pregnancies?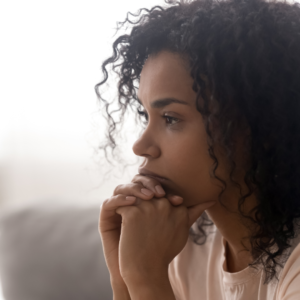 Maybe you or someone you know has searched those exact phrases. Maybe you're looking for answers, and you don't know who to trust, or where to turn for accurate information. We understand this – the questions, confusion, and overwhelming feelings – because we regularly talk with women like you who just want clarity, truth, and a safe place to ask and process deeply vulnerable questions about abortion and pregnancy.
We have noticed a lot of activity on our website about Abortion Pill Reversal (APR) and we thought it might be helpful to get more evidence-based, accurate information on our website for those of you looking for information on this topic. Below are some questions you might have about the abortion pill and APR.
At the bottom of this post is a video with local Lancaster physician, Dr. Matthew Weitzel, who shares his experience and expertise with APR.
What is the abortion pill?
The abortion pill, which is approved for use up to 10 weeks of pregnancy, is two different medications: mifepristone and misoprostol.
The first medication, mifepristone (or RU-486), blocks the receptors for progesterone in the uterus. Progesterone is the hormone that a woman's body makes that helps to keep a developing baby attached to the mother's uterus throughout the pregnancy. Blocking these receptors causes the placenta and the baby connected to it to detach. 
The second medication, misoprostol, causes the mother's uterus to start contracting and expel the detached baby and placenta from the uterus, thereby completing the abortion. 
How does Abortion Pill Reversal work?
Unlike a surgical abortion, RU-486 or chemical abortion is a process that generally lasts several days. Therefore a woman may have the opportunity to stop its progress and reverse its effects after only taking the first pill, without harming her unborn child.
Prescribing progesterone can reverse the effects of mifepristone. This reversal treatment works by out-competing mifepristone for the progesterone receptor sites until the mifepristone is no longer in the system.
How APR works practically is by giving progesterone to a woman who has taken the first medication, mifepristone.  The receptors in her uterus are flooded with Progesterone which works to stop the mifepristone that is currently trying to bind at the same site. In so doing, the placenta and the baby are given the best chance of remaining attached to the mom's uterus and, in turn, can continue to grow. 
Progesterone has been safely used to support pregnancies for over 50 years. All of the available evidence strongly supports its safety when used in pregnancy.
Does APR really work?
Studies show that when women take mifepristone – the first abortion pill – alone, the developing baby survives 9-25% of the time. In women who were treated with progesterone – the key ingredient in the APR process – the survival rate of the baby is 64-68%.
Is APR safe to take?
Progesterone is a safe, natural hormone produced by the body and has been used for over 50 years for various conditions in pregnancy.
A concern that we find many women have when it comes to the abortion pill, is that if they already took the first pill, does it mean the baby will have birth defects? In a *study of over 700 women who undertook the APR process, the birth defect rate and preterm delivery rate were lower than the national average. 
How do I get help if I want to try the abortion pill reversal process?
The first thing to know is that time matters.
If you have taken the first abortion pill and want to try APR, please call 855-209-4848, you will be connected to a healthcare professional who will ask some basic questions and then connect you with a doctor or medical provider in your area who can help. You can also learn more information by going to the website, reverseabortionpill.com.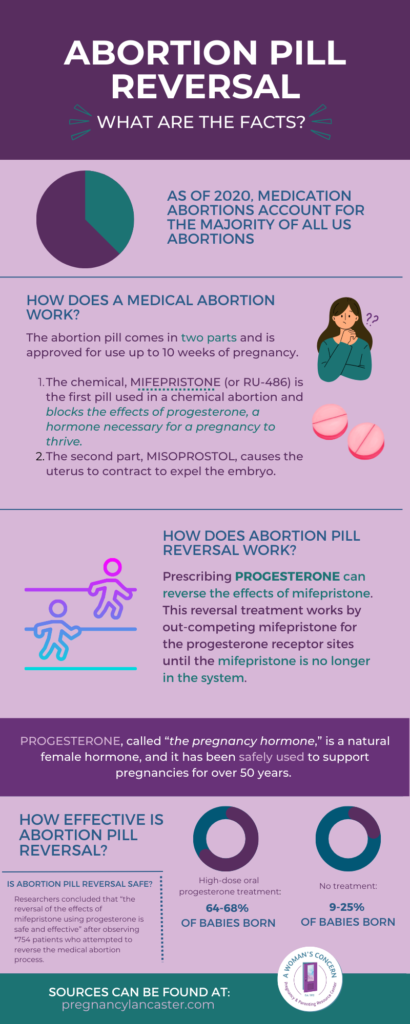 About Dr. Weitzel
Dr. Matthew Weitzel, a local physician here in Lancaster, PA, has experience and expertise with Abortion Pill Reversal (APR).
His first experience with APR began several years ago when he had received a phone call from a young lady who had just gotten back home from a Planned Parenthood clinic. She had taken the first abortion pill and regretted her decision. She frantically got on the internet, did a search, and came across the APR program. She contacted a nurse from the program who then contacted Dr. Weitzel, who was able to see her that evening. It was clear she was a little shaken and a little scared. Dr. Weitzel began the APR process by giving her a shot of Progesterone, and then instructing her on next steps. She went home with more Progesterone and followed through with the APR process.
Dr. Weitzel reached out to the young woman and she informed him that she was still pregnant. He followed-up again after she delivered her baby, and he was able to witness the remarkable transformation of that young woman, from scared teen to the proud and capable mom she became.
Since that time, Dr. Weitzel has continued to help women who want to try the APR program when they feel they have changed their mind after taking the abortion pill.
We are here to help you get the facts, and what options are available to you.
Call 717-394-1561 to schedule an appointment today.
You may need to disable content blockers in order for LiveChat and ChatBot to work on your device.
Sources:
Delgado G, Condly SJ, Davenport M, Tinnakornsrisuphap T, Mack J, Khauv V, Zhou PS. A Case Series Detailing the Successful Reversal of the Effects of Mifepristone Using Progesterone. Issues Law Med. 2018 Spring; 33(1):21-31. PMID: 30831017.
Jones, R. K., Guttmacher Institute, Nash, E., Cross, L., Philbin, J., & Kirstein, M. (2022, November 30). Medication abortion now accounts for more than half of all US abortions. Guttmacher Institute. Retrieved March 7, 2023, from https://www.guttmacher.org/article/2022/02/medication-abortion-now-accounts-more-half-all-us-abortions