A doula is your own personal pregnancy, labor, and delivery coach—your own private cheerleader and companion.
You can choose to hire a doula to support you during your pregnancy, through your labor and delivery, and sometimes even into the postpartum period (after you give birth). Their job is to provide continuous physical and emotional support throughout your pregnancy and childbirth.
A doula does not deliver babies and is not a medical professional. They do not provide any medical care. However, they have special training and receive a certification after passing an exam to become a certified doula. The most commonly used doula is the birth doula, however there are several kinds. Some doulas provide all of the doula services, which is good for the person who wants to use the full range of services.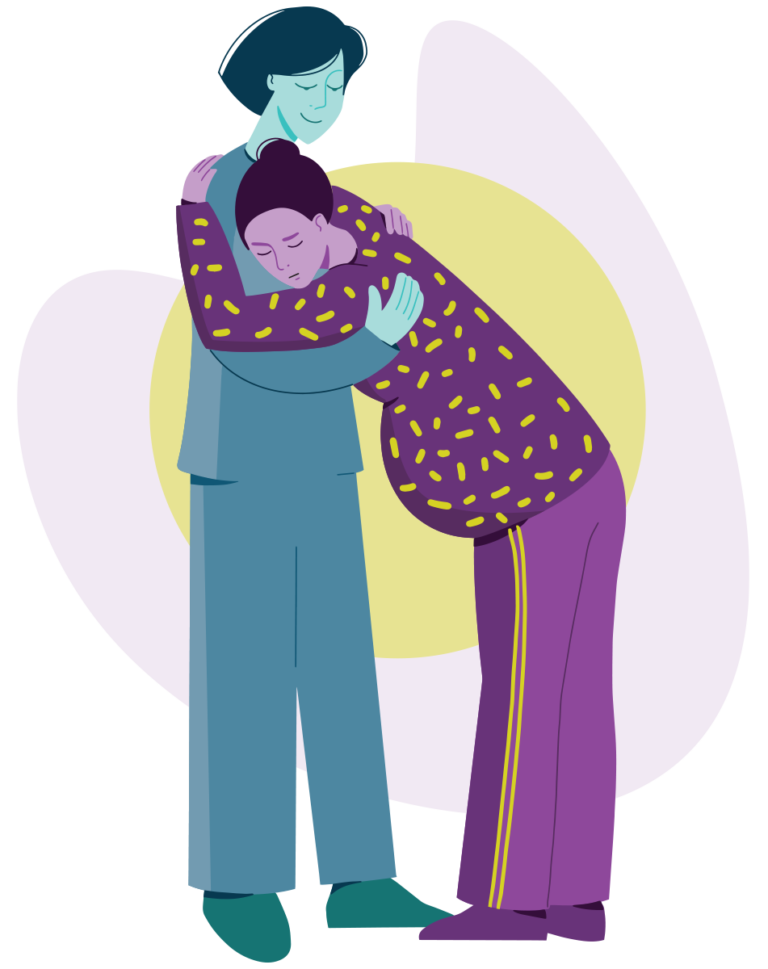 Types of Doulas:
Antepartum doula: She helps women who are on bedrest for a complicated pregnancy. She can help with household tasks and help with the other children while the pregnant mother is unable to due to bedrest. Antepartum = before birth
Fertility doula: She can help families who are trying to get pregnant by assisting during the conception process.They provide information, support, and guidance. They can look at the total person, evaluating your diet, stress level, and mental perception of your infertility.
Birth Doula: She coaches and assists you throughout pregnancy and/or labor and delivery, using various techniques, like massage and position changes, to help you be as comfortable as possible.
Postpartum Doula: She assists the mother and family in the first few postpartum weeks after the baby is born, She helps with feeding the baby,such as assistance with breast feeding, or bottle feeding, and household chores. Postpartum = after birth
Benefits of using a doula
Studies suggest women experience a shorter labor when supported by a doula.
Studies suggest women who are coached by a doula have a lower rate of medical intervention, such as an unplanned C-section.
Having a supportive doula during labor and delivery often results in decreased anxiety of laboring mom and partner.
Most doulas stay with you for the duration of labor and delivery, so you're never alone.
A doula's sole focus is the laboring mother, so you'll get undivided 1:1 attention.
things to consider
Hiring a doula is typically an out-of-pocket expense; however, some insurance companies do cover doula services. The cost varies by state and region and the services you want. Cost can range from $800 to $2,500. (Yikes!)
These days, a limited number of people are being allowed in the delivery room. The doula may count as one of the allowed people. Check your hospital's current rules.
You may prefer the privacy of just you with your partner and prefer them to be your only coach.
Think you'd like to hire a doula? So, what's next?
Should you choose to hire a doula, we recommend that you do so by the midpoint of your pregnancy, around 20 weeks. This will give you time to interview a few until you find one you have a chemistry/feel comfortable with. After all, the delivery of your baby is a very intimate and special event! Choose your doula wisely.
Word of mouth is a great reference and a good way to find a doula in your area. At your doctor's office, ask if they have a list of doulas. Obviously, searching online for doulas in your area will also give you results.
Once hired, your doula will typically meet with you during the second or third trimester to discuss your expectations and desires. She can also give you some education, answer your questions, and perhaps, lessen your fears. She will help you make a birth plan if you would like to. She will teach you breathing and relaxation techniques. She will support you if you desire a "natural birth", meaning without medication, and she will equally support you if you choose pain medication or epidural anesthesia.
Can't afford a doula? There are still options!
Perhaps you would like a doula but simply cannot afford the extra cost. Not to worry! You still have options!
The best thing to do is to educate yourself with your birth partner. You can do this by enrolling in AWC's labor & delivery classes or childbirth education at the hospital where you will be delivering. All classes at AWC have no cost to you, and hospital classes are often covered by most health insurers.
Additionally, if you prefer to have someone else helping you in addition to your partner, you can enlist a close family member or friend. Allow them the privilege of helping you and sharing your birth experience. It is a beautiful gift. They may not have special doula training; however, they love you and will nurture you lovingly. Cost = free, but priceless!
Free Doula Services for Women of Color from Patients R Waiting
Patients R Waiting is committed to eliminating health disparities by increasing diversity in medicine. They are also committed to increasing access to healthcare that improves pregnancy outcomes. NOTE: AWC is not affiliated with Patients R Waiting.
This information is presented as an informational tool only. It is not intended to replace medical advice or care from a qualified medical provider.
Call 717-394-1561 to schedule an appointment today!
Text CHAT to 831-292-5433 for assistance 24/7
You may need to disable content blockers in order for LiveChat and ChatBot to work on your device.