Finally your long-awaited baby has arrived!
After all those months, your pregnancy has come to an end, and you feel relieved. Now you start what is called the postpartum period, an exciting, yet tiring time for mothers.
This exciting, yet tiring time is when most mothers experience some degree of the "baby blues". It can start in the first couple days after delivery. You may feel sad or overwhelmed. You may feel anxious and even have trouble sleeping or a loss of appetite.
Many moms feel guilty about these feelings. Does this make you a bad mom… already?! Of course, you are happy about your new baby… So, then why do you feel sad with unexplained crying episodes?
You are not alone.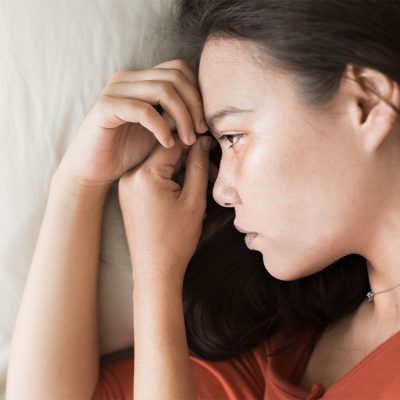 The physical changes after delivery, combined with a lack of sleep and an understandable case of mild anxiety, are common causes of "baby blues." These feelings are nothing to be ashamed of. They should subside in 3-5 days but note that they can last up to two weeks. In the meantime, try to take care of yourself with as much rest as possible and healthy eating. A good practice is to sleep when your baby sleeps—even a short "power nap" is beneficial. Don't underestimate the impact of a 10-20 minute power nap!
Postpartum depression is a serious medical condition.
Postpartum depression, on the other hand, is a more serious medical condition. If your baby blues symptoms last longer than two weeks, you should to talk to your doctor. Having postpartum depression symptoms does not make you a bad mom, and it is not your fault. Postpartum depression, also referred to as PPD, is thought to be caused by a drop in hormones after delivery. About 1 in 10 new mothers experience these kinds of symptoms.
Postpartum Depression Symptoms to be aware of:
Continuous feelings of being sad, hopeless, or overwhelmed
Losing interest in your baby, feeling disconnected
Trouble sleeping, unable to sleep, or sleeping all the time
Change in eating, eating too much or too little
Trouble focusing or making decisions
Feeling depressed most of the day
Feeling like a failure
Losing interest in activities that used to bring pleasure
Crying often
Thoughts of harming yourself, your baby, or someone else
It is important that you notify your medical provider right away if you are experiencing any of these symptoms. Postpartum depression can be treated with medication, therapy, and support groups. It is also important to know if you are at risk for postpartum depression and also that it can appear up to a year after childbirth.
If you don't have a medical provider, call us, and we may be able to help you find a local doctor to assist you.
Some women may be more likely to experience PPD symptoms due to additional personal/family mental health history and other life factors.

Risk Factors that may make you more likely to experience Postpartum depression:
Personal history of depression or bipolar disorder
Family history of depression or bipolar disorder
Lack of support from family and friends
You have an addiction to drugs or alcohol
You had PPD in a previous pregnancy
You had an unplanned or unwanted pregnancy
Your baby has special needs
You are having trouble breastfeeding
You are having relationship issues
You are having money issues
You felt depressed during pregnancy
The most important thing to realize is that help is available. Postpartum depression is treatable. The first step toward getting better is to recognize you need help. The second step—for the health of you and your baby—is to reach out and get it!
This information is presented as an informational tool only. It is not intended to replace medical advice or care from a qualified medical provider.
Call 717-394-1561 to schedule an appointment today!
You may need to disable content blockers in order for LiveChat and ChatBot to work on your device.